If you're looking to get a good price on a new or used car, now's the time to hit the dealerships and start haggling.
"If you want to get the best possible deal, you really need to overcome your insecurities about negotiating. Or to use the dirty word for most car buyers -- haggle," claims a report from Business Insider.
But even if you're bad at negotiating, you're about to get a lot more bargaining power from your local dealership. They're going to be begging for your business soon enough.
While the stock market pushed to new all-time highs, auto sales couldn't keep up the pace. July numbers prove once and for all that the top is in for auto sales.
---Sponsored Link---
BREAKING: The Government's "Ice-Nine" Plan Revealed
Dear Reader,
I've just uncovered a coordinated world-wide plan to freeze EVERYTHING you own. Your savings account... FROZEN (you won't be able to withdraw anything.) Your brokerage account... FROZEN (you won't be able to sell anything.) Your retirement account... FROZEN (all that "safe" money you thought you had will be gone.) Your money market account... safe deposit box... bank-owned vault... All FROZEN. It's 100% true... and could be coming to your bank SOON. I've detailed all of this in a brand-new book that I want to send to you for free. Click here now to learn how to claim your copy while supplies last. Please hurry, my research shows this lock-down plan could be implemented at any moment.
General Motors took one of the biggest hits. Deliveries dropped 15%, far more than auto analysts predicted. Fiat Chrysler is also feeling the heat, posting sales declines of 10% on the month. Not to be outdone, Ford's July sales dropped 7.5%. That includes a 7% drop in truck sales. Car sales dipped a whopping 19%.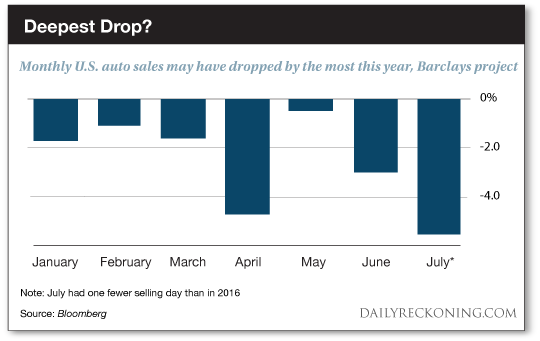 There's no way around it: the go-go years of breakneck car sales are skidding to a halt.
The U.S. has enjoyed a booming auto market for the better part of the post-financial crisis recovery. The days of Cash for Clunkers quickly gave way to eager buyers replacing their old jalopies with fancy new sedans, trucks and SUVs.
Sure, Americans love their cars. But no bullish market cycle can last forever. Myriad factors are weighing on the auto world right now. Cars have become ultra-reliable from almost every single manufacturer. Autos are staying on the road longer, which means that fewer shoppers are looking to replace their ride.
New technology is also beginning to weigh on the car market. The beginning of autonomous driving technology, ride sharing, and the rise of the electric car age threaten to change how most Americans commute to work and school every day.
"Why buy a new car now when the car of your dreams is just over the horizon?" Bloomberg asks. "A 2017 Toyota Camry, for example, still isn't vastly different from the 2007 iteration. Someone driving the early model, however, may figure a 2020 Camry will drive itself and zip around on electrons."
Of course, car companies have done everything in their power to keep sales on track. That includes sketchy longer-term car loans.
Lending to subprime borrowers for auto purchases has been ballooning to unsustainable levels. Our own Rick Pearson has stayed on top of this story since late last year, noting that when the easy-credit spigot is turned off, the booming sales of new cars will come screeching to a halt.
These factors combined point to a prolonged drop in car purchases. Automaker stocks are already starting the feel the heat...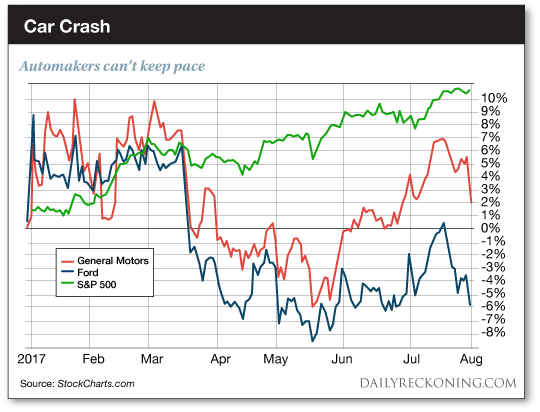 Both Ford and General Motors shares took a hit after yesterday's July sales hit the wire. Ford stock dropped nearly 2.5%. Shares are down almost 6% year-to-date. GM fared even worse, posting a 3.4% drop Tuesday. Shares are poised to sink into the red for the year if the selling continues. Both major automakers are badly lagging the S&P 500 in 2017 after diverging back in March.
There's more trouble ahead for the U.S. auto market -- and the story is just beginning to catch on in the mainstream financial press. Look for the carnage to continue during the third and fourth quarters...
This article originally appeared on Daily Reckoning.