The averages are just a breath from all-time highs. The relentless rally marches on.
But no one's happy about any of this...
The pundits and prognosticators were dead wrong. They keep telling us we're in for a nasty crash. It all began late last year when the financial media all but guaranteed a post-election stock market meltdown. Instead, we've witnessed a historic surge.
So I have to ask...
How the hell did everyone get it so wrong?
Today, you're going to find out. I'm breaking down three biggest lies swirling around the post-election rally -- and how they're costing you big bucks.
Let's get started:
1. "Trump's Win Was Good For Stocks."
Dow futures swooned 750 points on election night as a Trump win became apparent.
The rogue candidate was going to tear down the establishment! The bull market would never survive a Trump presidency! 
But as stocks climbed out of the gutter the day after the election, the media quickly changed their tune...
The headlines flipped as soon as stocks flashed green. Trump was no longer a threat to the markets. In fact, his election was positively bullish!
Go figure...
Despite what everyone told us before the election, a Trump win wasn't the final nail in the market's coffin. But his victory wasn't the bullish catalyst portrayed by the media. My best guess is the market would have posted a similar rally following a Clinton victory.
Why?
Because the outcome wasn't all that important. The market just wanted the election to just go away. It wanted a resolution.
As we told you time and again last year, strength in tech stocks, transports and small-caps were all hinting at a market melt-up weeks before the election came into play. With the uncertainty of a hotly contested presidential race out of the way, the market was free to build on the bullish activity that was setting up under the surfaces of the major averages. Simple as that.
2. "New All-Time Highs Mean Investors Need To Be Cautious."
I have no idea how this market meme got started, but fear of new all-time highs has dominated financial discourse since 2013.
In case you've had internet connectivity issues for the past few years, 2013 was the year the S&P 500 posted its first new all-time high since the financial crisis. As soon as stocks finally got their collective act together, we began seeing dire warnings of an impending market crash.
Of course, we all know how that turned out...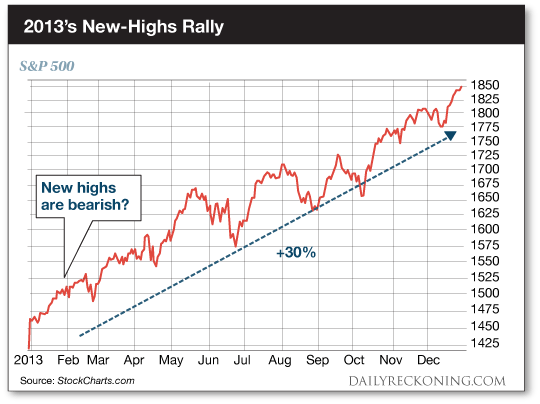 Last I checked, new highs were good for investors. Stocks leaping into uncharted territory is a hallmark of a bull market. Embrace it. Focus on strong sectors and the rally will reward you with winning trades.
3. "Stocks Have Moved Too Far, Too Fast."
"This rally is overcooked" is the anthem of the bull that stayed behind. He received an invitation in the mail. But for whatever reason, he never made it to the party.
Of course, the market never goes up in a straight line forever. The branches shake and the weak hands fall to the ground. That's perfectly normal. Just don't expect the sold-out bulls to see it that way.
We've already seen some sectors stall out this year. Transports and small-caps come to mind. And a 5% market pullback will probably materialize sooner rather than later.
I can all but guarantee we'll see reports that the sky is falling if we do see some downside follow-through. Naturally, your best bet is to ignore this noise and focus on your trades...
This article originally appeared on Daily Reckoning.