As the market melt-up barrels into November, investors continue to gorge on high-flying growth stocks.
The Nasdaq Composite launched to new all-time highs yesterday, fueled by the likes of Facebook (Nasdaq: FB) and Apple Inc. (Nasdaq: AAPL). Facebook is now up more than 56% on the year, while Apple is hot on its heels as hype builds over the debut of the new iPhone. Both are perched at all-time highs.
---Sponsored Link---
You May Hate Me For This, But... 
Dear Reader, 
The government just did you a huge favor... Now, before you write me an angry email, click here. When you do, you'll see exactly what I mean. Fair warning... This might make you hate the government a little less. But I promise it's worth it. Oh, one more thing... You need to act fast. This whole thing changes on January 19th. Click here now, before you do anything else today.
With the market flying higher every week, investors aren't satisfied hanging onto stodgy value plays. If you want to keep up with strongest stocks on the market, you have to bet on growth...
Head of currency strategy at Brown Brothers Harriman Marc Chandler notes that the Russell growth index is trouncing the value index this year by 17%, Bloomberg reports. That's the widest spread in 17 years. We haven't seen investor appetite like this since last century...
With just a handful of trading weeks left in 2017 and the market in full melt-up mode, it's time for us to zero-in on the growth leaders. These stocks were not only the market's first-half leaders -- they also have the best shot at storming into uncharted territory before the year is up.
If the market action we're seeing right now is any indication, the next leg of the tech melt-up is here. And these growth names are about to mint traders some incredible gains...
Semiconductors are on the top of our growth list this morning. In fact, ever since a critical breakout back in September, semiconductors have earned our full attention.
Back in the third quarter, we showed you evidence pointing at a year-end rally from these names that are at the very foundation of the tech stock boom. The big tech darlings that everyone left for dead last year came roaring back to retake their rightful throne as market leaders in 2017. Semiconductor stocks have been one of the best places for your trading dollars -- even when the market was stuck in a tight range earlier this year.
Of course, the semis didn't get much of the credit they deserved. Aside from a couple of high-profile names like NVIDIA Corp. (Nasdaq: NVDA), these stocks took a backseat to the household name mega-caps. The FAANGs -- Facebook, Amazon, Apple, Netflix, Google -- had captured Main Street's imagination. These are the stocks most folks wanted to own this year. Who can blame them?
But there's no doubt that the semis have delivered...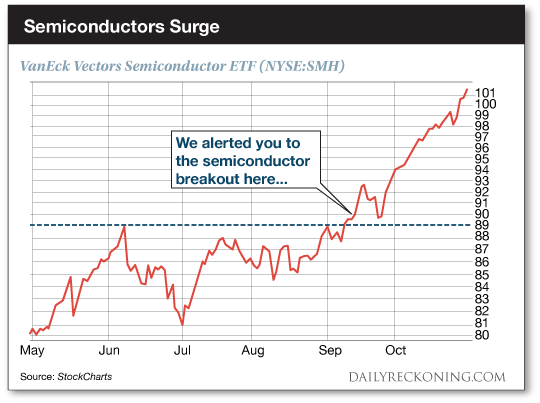 The VanEck Vectors Semiconductor ETF (NYSE: SMH) had endured a choppy consolidation period beginning in June that lasted more than three months. But by mid-September, this industry was setting up for a powerful breakout once again as market focus shifted back to the tech sector.
Since the textbook breakout just six weeks ago, SMH is up another 12% and counting...
Back in September, I told you the semiconductors were turning into the ultimate snapback trade for a market melt-up. Remember, traders completely abandoned these stocks over the summer as they gave back a good chunk of their 2017 gains back in June.
This action set the stage for the rally we're witnessing in the fourth quarter. Now that the semis have regained a leadership role and have once again broken out to new highs, we can expect to see the trend continue higher.
That's not just bullish for the tech sector, but the entire market.
This article originally appeared on The Daily Reckoning.