In Wake of Hurricanes, Home Builder Caution Grows
That's right -- economists are turning against homebuilders once again. The above headline I ripped from Forbes is one of many real estate hot takes that's putting the homebuilders on blast these days.
---Sponsored Link---
Attention Seniors: MUST-SEE Obscure Social Security Contract
Thanks to a contract just like this one, you could receive four deposits of as much as $6,880 in 2017... No matter your age or income level... Without having to pay extra taxes... And without affecting your Social Security checks. If you act before October 19th, you could be the next one to receive these deposits from the private sector. You just need to put your name on the list of recipients. Click here to see how.
Of course, the real estate analysts aren't pulling these concerns out of a hat. Harvey and Irma have done serious damage to countless homes in Texas and Florida, throwing a wrench in the gears of a fragile housing market comeback.
One economist notes that Florida is responsible for 10% of the building permits issued in the U.S. this year. Hurricane damage and labor shortages are weighing on sentiment and will probably drag on new construction. Plus, the economist notes, new construction was already weaker than expected before the hurricanes hit...
With all the potentially negative housing news piling up, homebuilder stocks are probably taking a hit to begin fourth-quarter trading, right?
Not exactly...
Lennar Corp. (NYSE: LEN) ripped toward post-housing crisis highs yesterday as the homebuilder trounced third-quarter revenue and earnings estimates. In fact, the entire construction industry is ramping higher this year. The iShares U.S. Home Construction ETF (NYSE: ITB) launched higher by double-digits in September, landing its year-to-date gains north of 35%.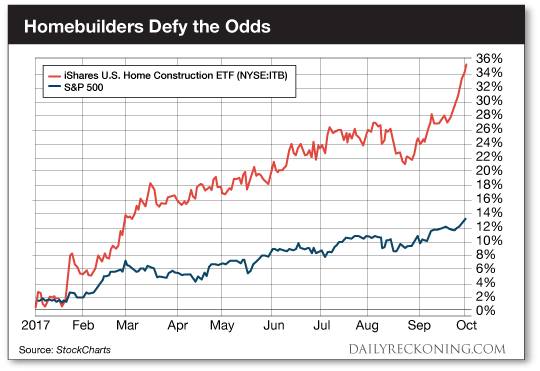 How can homebuilders have a banner year as terrible natural disasters disrupt two of the fastest growing regions in the country?
For one, it's insanely difficult to stop a generational trend. Millennials are finally growing up. They're getting married and starting families. They are going to need somewhere to live -- and it ain't some dingy apartment above a bar.
Forget what you thought you knew about the housing market. After years of stagnation, housing is heating up. Inventories are tight. Interest rates remain low. Homebuilders are back in action after years of sitting on their hands. Buyers are out in droves. Real estate is hot again.
We've had to ignore bad press all year as we've tracked the rebirth of the homebuilder sector. The market was even spitting out some bleak housing stats back in the spring. After vaulting to 10-year highs in March, home sales cratered, coming in well below consensus forecasts.
The new data drummed up some especially scary headlines about a home sales collapse -- as if we were supposed to ignore the fact that the April figures were a half a percent higher from the same period last year, even if they were off by double-digits from the red-hot March print.
Once again, it's the same old story. The news tells one story. Price tells another.
The writing is on the wall. Homebuilders need to ramp up production to meet consumer demand after sitting on their hands for the better part of the last decade.
You might recall that the U.S. homeownership rate recently dipped to its lowest level in more than 50 years. I know that doesn't sound bullish -- but it has more to do with the generation-gap than any other economic trend. As younger people jump into the housing market, we're going to see a huge bounce off these lows.
This is one of the many reasons we've remained bullish on the industry for the better part of the past two years. Ignore the fake news. The housing boom is back.
This article originally appeared on The Daily Reckoning.